Food can be a major part of any event! Nail the catering and it can take your event from good to great.
There are not many things that can please a guest quite like an amazing dining experience – which means cooking up the right kind of catering (pun intended). Makes it memorable! We've put together a few ideas for you to dazzle your attendees.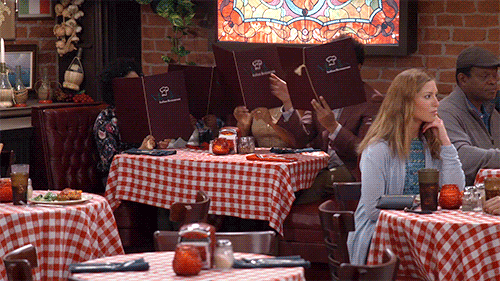 Give 'em a menu.
Get your guests' mouths watering by sharing the delicious things that are in store for them. By providing a menu, you can build excitement before the meal even begins!
How you present the menu can make all the difference. Depending on the formality of your event and your serving style, you might choose to display your menu in different ways. For instance, at a fancy Gala, small menu cards at each table could be a classy touch. Alternatively, larger signs, like chalkboards, are always a cool option.
And don't forget the power of technology! QR codes are all the rage these days, so why not use them to send the menu straight to your attendees' phones? Not only is it a convenient and low-waste option, but it's also a fun way to add a modern twist to your event.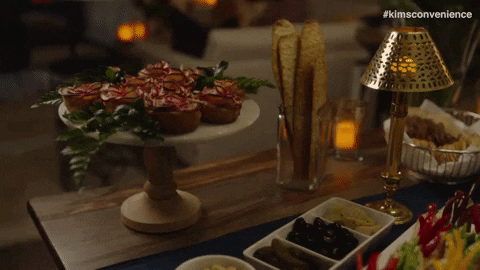 Make it inviting.
You eat with your eyes, right? Invite guests to the food table by placing it in an open spot with eye-catching decor. Try draping lights around the display with florals, greenery, and other visual elements. For self-serving "finger food" tables (think cupcakes or charcuterie boards), add cake stands to add dimension to the spread. It can also be useful to post signage letting guests know whether to dig in or wait.
If you have catering servers and a lot of guests, announce when each table should get in line. This cuts any confusion and limits the amount of guest traffic through the venue space. Give each table a unique letter or number!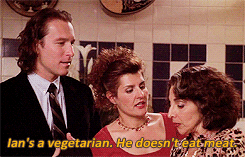 Keep it sustainable.
You can make your event sustainable in a few ways – like serving plant-based food or going plastic-free!
Did you know that around 91% of plastic is not recycled? Events can be a big contributor to single-use plastic, but cutting out the extra waste can be simple. To make your event catering more sustainable, opt for reusable dinnerware. Instead of plastic cups, use glass jars – swap plastic cutlery for silverware. Bonus: feel more fancy! By making these sustainable swaps, you can reduce the waste created – plus you can reuse these items at future events. If you're on a budget, the thrift store is a great place to find high-quality dishes, glasses, and cutlery in bulk!
Another way to make your event more sustainable is by offering plant-based options. More people are adopting a vegetarian or vegan diet, often to be more eco-conscious. Serve some delish black bean patties alongside the beef patties – your veg guests will love it!
Stick to the event theme.
What's the event theme and how can it match the way you present your catering overall? Food is an opportunity to bring the event theme full-circle and give your guests an experience that they'll remember. Adding the event theme to your catering plans is a chance to show your attention to detail!
For example, if you have a space-themed event, a marbled "galaxy" cake and cut out star-shaped cheese slices would match the theme. 
Does your event happen in the morning? Your guests would love a delicious brunch with coffee, local pastries or bagels, and mimosas. 
If you're still in the event planning process, figuring out your catering plans early on is smart! Planning ahead gives you plenty of time to incorporate the event theme. Here's a blog post on how to stay organized when planing your events. 

Think outside of the box.
Nobody can think quite like you! Brainstorming can be the perfect way to come up with fresh and unique catering ideas for your event. So grab a pen and some paper, and start jotting down all your foodie thoughts. Who knows, you might come up with something as crazy (and delicious) as deconstructed pizza skewers or an all-purple food spread!
And don't forget to check out what others in your industry are doing. Take note of the event catering that has wowed you as a guest and put your own twist on it. Remember, there's always room to get creative and add your own special touch to traditional catering ideas. So give yourself some space and time to think outside the box and come up with something truly memorable for your guests!

Look within.
When it comes to planning your next event's catering, don't forget that true ingenuity comes from within. But, that doesn't mean you can't take inspiration from others to get those imaginative juices flowing! So, scour the internet, chat up your foodie friends, and take note of your favorite flavors and designs. Then, let your inner genius do the rest!
Remember, even one small idea can make a BIG impact on your event. Now, go forth and create some culinary magic! Happy catering, y'all!